"Consider it pure joy, my brothers and sisters, whenever you face trials of many kinds, because you know that the testing of your faith produces perseverance." James 1:2-3
Within seven days in January, my wife's wallet was stolen and her car died. So I called the start of 2022, 2020: The Trilogy.
Casey had stopped at the store and dropped her wallet. When she realized it, she went back to look for it. The security cameras caught a homeless guy picking it up and walking off.
She got her license back. Unfortunately, cash, credit card, and insurance are gone forever.
I canceled the card before a charge was made and reordered a new one.
Days later, she was driving home. It was a cold, windy, and rainy Saturday. Potholes were appearing like bomb craters and rising water hid them.
Oncoming cars prevented her from dodging the water, and she hit a deep puddle. The car died, coasting to a stop.
It wouldn't start. It was cold.
Casey lit the Bat-Signal, and I rolled up with Baby Batgirl and Robin the Toddler Wonder.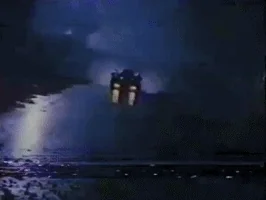 I couldn't get it to jump off.
An older gentleman noticed our problem and said we can leave the car in his yard. After soaking myself and hooking the chain up, he pulled it into the yard until I could get the tow truck there.
I wonder if God had something planned in that meeting. A divine appointment.
We were now a one-car family, and my wife had to work the next day. So because I needed to get the car, that means I woke up at 5:00 am, and me and the kids took her to work.
After dropping her off, we went home, and I wondered if I should go to an earlier church service or our normal one. We hadn't been in the building the last two Sundays.
The first weekend we were out of town. Precautionary quarantine kept us out the second weekend. We did watch online, though.
It's not the same.
I decided on Second Service so I could get the car towed ASAP. It would be an hour and a half wait, so I had time to go home and let the kids stretch and eat.
Then it was back in the car seats for the fourth time.
I chatted with the guy while we waited on the truck. He refused my offer of money for helping us.
We got home again about a half-hour before we would leave again to get Casey from work. Sam let me know what he thought about yet another car ride. I'm pretty sure I was cussed out in toddler.
When we finally got home for the day, I began working on the car. First, I switched batteries and got it started. Then I pulled a battery cable off to see if the alternator was working.
After charging the battery, I turned it off and checked to see if it would start again. It did.
The Check Engine light glared at me, though.
I'd get that checked the next day. I had to be at work at 11 pm that night to cover a shift.
Monday greeted me, and I got in the car, cranked it, and noticed the radio/trip computer didn't come on. So I put it in reverse, backed out, went into gear, hit the gas, and…nothing.
The engine just idled. There was no throttle response.
Monday had greeted me with a middle finger.
I started working through possibilities, all of which were beyond my capability. I called the tow truck again, the destination dealership.
They found blown fuses to the throttle body and radio when they started looking at it. So I asked them to check the battery as well.
It broke bad.
Our emergency savings were exhausted with the tow truck costs (and he cut me a deal), the repairs, and an upcoming root canal for my wife.
That's what they are there for. The repairs could have been worse had it been mechanical rather than electrical.
The next day I got a call. The person calling was worshiping and felt led by God to give us a certain amount of money.
That amount covers all the above costs.
"Are not five sparrows sold for two pennies? Yet not one of them is forgotten by God. Indeed, the very hairs of your head are all numbered. Don't be afraid; you are worth more than many sparrows." Luke 12:6-7
Won't He do it.